We believe that a Los Angeles that welcomes refugees and asylees with open arms - in a way that promotes volunteerism and civic participation through the Neighborhood Council system - will be a better, more compassionate, and more engaged place for all Angelenos.
2019 COUNCIL PARTICIPATION
LIAISON TRAINING
On May 5, 2019, we led training for 9 Welcome, Neighbor Liaisons, to help them lead their neighbors in helping families resettling as refugees in the City of Angels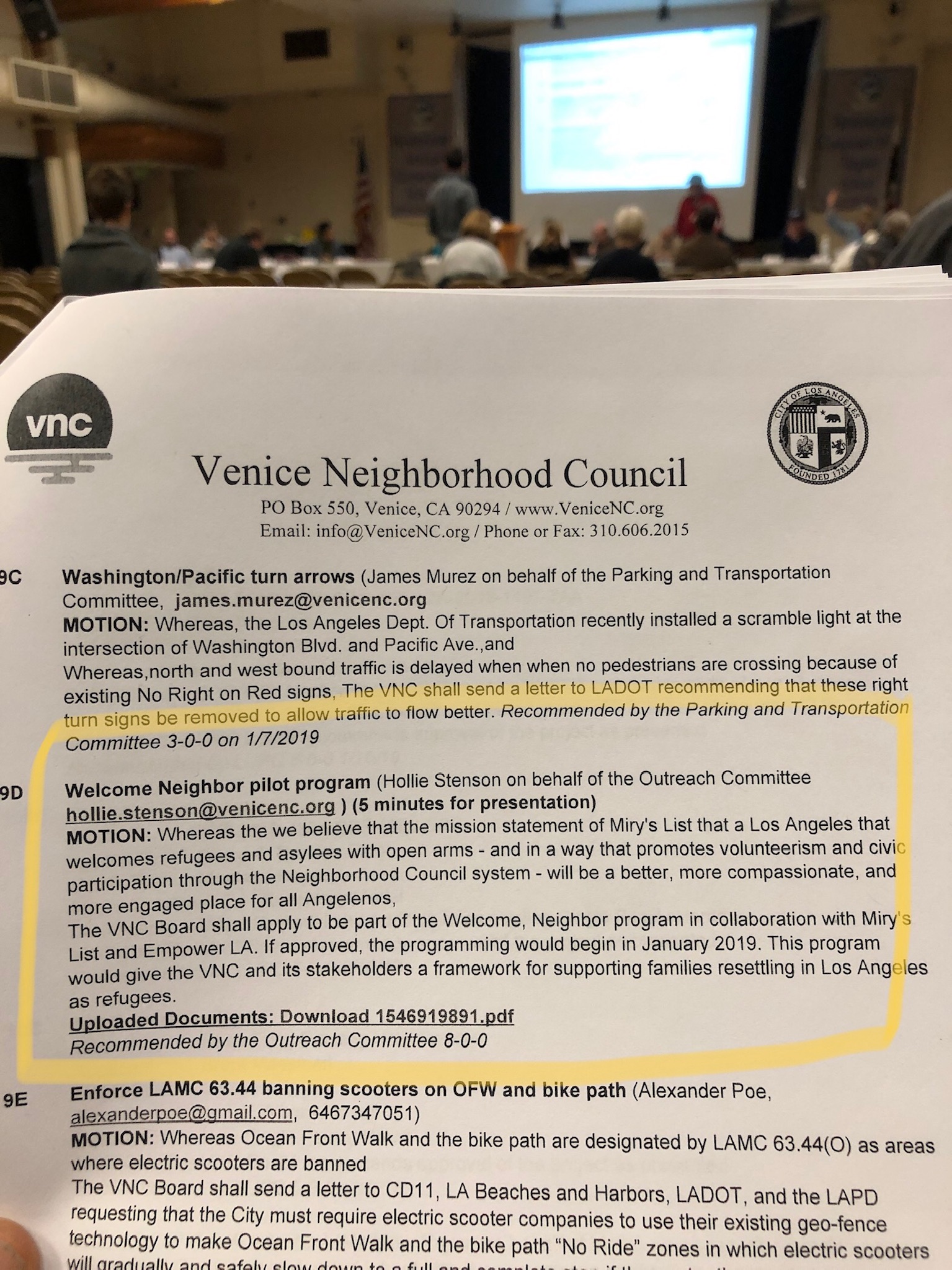 2019 UN WOMEN ANNUAL ASSEMBLY
In June, 60 Angelenos learned about the resettlement system in America, how it feels to resettling as a refugee in LA, and how we can help our resettling neighbors. We also drank Syrian coffee and enjoyed Afghan desserts.
COMING NEXT
We are in the Activation phase of Welcome, Neighbor through December, 2019, which includes:
Targeting 100% council adoption of the Welcome, neighbor Resolution

Participation in Welcoming Activations, facilitated by Miry's List

Reaching our goal of 100,000 Angelenos with Welcome, Neighbor
In December, 2019 we will release the Welcome, Neighbor survey to begin data collection and analysis to establish learnings and findings to understand how we can improve and measure our impact.
JOIN US IN SEPTEMBER
HISTORY OF WELCOME, NEIGHBOR
We believe that a welcoming city starts with welcoming neighborhoods.
In March, 2017 we asked a big question: How can we make our city of Los Angeles the most welcoming city in America for refugees?
To answer it, we developed a framework to pilot here in Los Angeles that makes it easy and enjoyable for any Angeleno to get directly involved in helping families resettling in our city. We approached the LA Department of Neighborhood Empowerment (DONE) at City Hall with an idea to help make neighborhood councils the leaders for welcoming their resettling neighbors and board meetings a destination for Angelenos anywhere in our city to get involved welcoming new arrivals.
In June 2017 we led a campaign for LA2050 and with a campaign video shot on an iPhone and hundreds of social media ambassadors, we won $200,000 to bring Welcome, Neighbor to life.
We announced Welcome, Neighbor at an open to the public event in downtown LA, New Arrival Festival at the historic El Pueblo. City Controller Ron Galperin gave opening remarks and over 100 people learned about what it feels like to resettle as a refugee in Los Angeles through a panel of new Angelenos moderated by Iranian-American comedian Maz Jobrani. The evening concluded with a live hummus making demonstration by a Abeer, a resettling mom from Syria, hosted by LA's "voice of food" Evan Kleiman . Welcome, Neighbor was subsequently covered on NBC, ABC, PRI's The World, podcasts like School For Humanity, The Dave Chang show, and That Moment with Doree Shafrir, and in print in The Jewish Journal and more. Our social media campaign became a movement igniting Angelenos across the city, including celebrities and elected officials to support Miry's List in launching Welcome, Neighbor in Los Angeles.
LA2050 TURNED IT ON
LA2050 is a community-guided initiative driving and tracking progress toward a shared vision for the future of Los Angeles. LA2050 was launched in 2011 by the Goldhirsh Foundation to inspire an outbreak of civic activism and to develop a roadmap for the future of the Los Angeles region.
WELCOME, NEIGHBOR IS BORN
By October, the infrastructure for Welcome, Neighbor was in place. We had a website, with enrollment for neighborhood councils, a Welcoming Resolution, and an a'la carte menu of activations that councils could select to make impact for resettling Angelenos. Our goal was to enroll 10 neighborhood councils in the pilot starting in 2019.
EXCEEDING GOALS
Our goal was to for 10 councils to agendize and vote to enroll in Welcome, Neighbor by January 2019. We got the word out to board members about Welcome, Neighbor through social media and events with partners and ambassadors. And the strategy was successful! By November, 24 enrollment applications had been submitted representing 18 Neighborhood Councils. By January, we hit our goal and enrolled 10 councils, many of whom voted unanimously to support Welcome, Neighbor. The support from neighborhood councils was enthusiastic, positive. and passionate! We encountered sweeping approval as we spoke at neighborhood council meetings all over Los Angeles.
Welcome, Neighbor is a program offered to Miry's List resettling families in LA in the 2nd phase of resettlement, Hive. The goal in this phase of their resettlement is to give access to neighbors and our community to help them get the people, services, and things they need to rebuild their lives.
We've successful integrated Welcome, Neighbor with our existing activities and programming, like Friendsgiving and New Arrival Supper Club, spreading opportunities to make human connections and just being really good neighbors.
EVALUATION
How we Evaluate Welcome, Neighbor's success:
Activate 100,000 Angelenos with Welcome, Neighbor

Make it easy and enjoyable for Angelenos to get directly involved supporting their resettling neighbors

Boost participation in Neighborhood Councils and voter turnout for June, 2019 NC elections